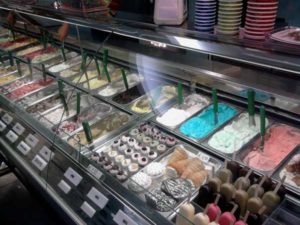 Italian ice-cream, the gelato, is famous all over the world, so once you are in Italy you should have a try at least once (twice?) a day. How else are you ever going to try all the different, delicious tastes available? Now luck has it that a gelato isn't as fattening as an ice-cream, as the Italians use milk to prepare it, instead of cream.  The ice parlours are all over the place in Italy and many of these will provide you with a decent and tasty delicacy. Just make sure to look out for the term artigianale or produzione propria or fatto in casa as this means that it is home-made instead of industrial. And at the most touristy areas watch out for scams, as it has happened that gelato was sold at 16€ in Rome!
Where to get the best gelato in Milan and surroundings:
Grom
In Milan a famous place for an ice-cream is Grom . With five locations in Milan, there is always one in proximity. The gelato is made in a centralized location, always with fresh seasonal fruit to insure quality. The queue of customers is almost always long, so you'll need to be patient. The addresses in Milan are: Via A. da Giussano 1 (near Porta Magenta ); Via S. Margherita 16 (close to the Scala ); Corso di Porta Ticinese 51; Corso Buenos Aires 13; Corso XXII Marzo 5 (near Porta Vittoria ).
Fratelli Freni
This is a small specialty pasticceria, straight to the east of the Duomo , selling colorful marzipan sweets made in the form of all sorts of fruit. It also specializes in ice-sorbets, ice-creams and Sicilian specialities.
Gelateria Marghera
This gelateria is one of Milan's most famous and you will probably have to be patient if you want your ice cream here … and there is no place to sit. Marghera is located west along the Via Vercelli/Magenta so you might want to pass by after a visit to the Santa Maria delle Grazie (the ice hopefully won't be your Last Supper). A wide range of choices is offered of milk based, fruit taste and chocolate type ice creams, as well as other sweet delicacies. Enjoy!
Rivareno
There are two Rivareno Gelaterie in Milan, which means that you run the risk of eating far too much ice cream each day of your stay here. Fortunately the real gelato uses no cream but rather milk as a base and is far less fat than real ice-cream. There is one such heavenly place in the Brera district, near Parco Sempione , and another in the Navigli district .  One look at pictures of the different gelati on the Rivareno website and you're lost …
Il Massimo del Gelato
This one is a bit further out of city center but it may be worthwhile. II Massimo is said to be one of the best gelaterie of Milan and it offers a very wide choice of tastes, among which six varieties of chocolate ice! It is located north east of the Arco della Pace at the far end of large park behind the Sforzesco castle.
Sibille
My favourite, near our home is gelateria Sibille at Stradella , at the foothills of the Oltrepò Pavese (not far from the A21 motorway connection). As you enter it is immediately clear that only quality counts here. The shining glass and steel interior is cleaner than in a hospital. And the personnel even wears white skirts and caps! Choosing from among a wide choice of tastes, also sorbetti and yogurts, is impossibly difficult.