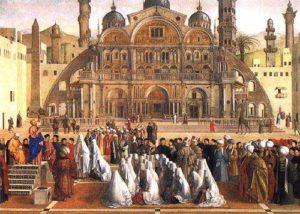 About 500 meters north of the Scala you'll find the Pinacoteca di Brera (Brera Art Gallery). Surprisingly enough the museum owes its name not to its founder but to the Germanic word braida , indicating a grassy opening in the city structure.
Several of Italy's greatest masterpieces can be admired here, for example:
Andrea Mantegna 's amazing Dead Christ and St Luca Altarpiece ,
Raphael ' s Betrothal of the Virgin,
Piero della Francesca 's Madonna with Saints ,
Caravaggio 's Supper at Emmaus .
Other works by several Bellini's (Pietà, Madonna with Child, Sermon of St Mark in Alessandria) , Canaletto, Tintoretto ( The Discovery of St Mark's body ) and Veronese and many more:
Bramante , Christ at the column
Bramantino , Holy Family
Bassano , St Roche among the plague victims
Carpaccio , Disputation of St Stephen
Correggio , Adoration of the Magi
Crivelli , Madonna della Candeletta
Da Fabriano , Val Romita polytich
Foppa , Altarpiece
De Predis , Portrait of a young man
Veronese , Last Supper .
A virtual visit is available on the (unfortunately all Italian) website. An overview with reproductions of many of the artworks of the Pinacoteca can be found on the 1st-art-gallery website. Audio guides are available in Italian, English, French, German, Spanish.
Disabled visitors
The gallery is on the first floor of the building but is accessible by lift from the Soprintendenza entrance (Via Fiori Oscuri , 2). Electric wheelchairs available. No reserved parking.
Part of the same Brera complex are an astronomical museum and a botanical garden , both free admission.