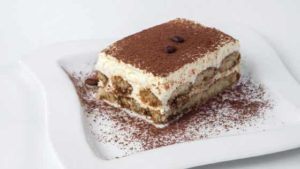 Every day is a tiramisu day, most people seem to think, given the immense popularity of this Italian dolce. It is difficult to find an Italian restaurant outside of Italy that does not offer this favorite. But since last year there is a special day dedicated to tiramisu as well: the 21rst of March. Just as there are special days for Nutella (February 5) and pasta (October 25). It is hard to believe that the most famous of all Italian desserts was invented less than 50 years ago.
Origin of the tiramisu dolce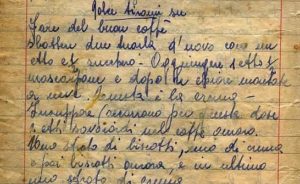 There are a few different stories about by whom and where the first tiramisu was made, but the name clearly originates from the city of Treviso. One of the several traditional receipes that inspired the inventor, apparently Loly Linguanotte (jolly name!) of the Alle Beccherie restaurant in Treviso, to create tiramisu was the Trevisian sbatudin: whipped egg yolk with sugar, used to help recover weak children, eldery and ill, to 'pull them up' as it were. Other desserts that seem to have inspired Loly seem to be the zuppa inglese (from Emilia-Romagna and Tuscany), the French charlotte and a Bavarian dessert as well. The date of the invention can be traced back to 1970.
Tiramisu classical receipe
There are a lot of variants of tiramisu nowadays (everybody wants to invent his own classic apparently), but the classical one contains only the following ingredients (6-8 servings):
6 large eggs at room temperature
150 gram or 5 ounces of sugar
500 gram or 18 ounces of mascarpone cheese
4 spoonfulls Marsala, optional
300 grams or 11 ounces of ladyfingers
4 brewed espresso lungo at room temperature
unsweetened cocoa powder, for garnish
Preparation of the Tiramisu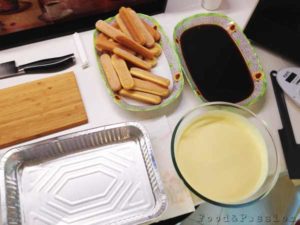 Put the sugar and the egg yolks in a large bowl. Beat well until the mixture is light and creamy. Add mascarpone and half of marsala, and beat well. Beat the egg whites until stiff and add them in the mascarpone cream. Mix gently.
Pour the espresso in a shallow dish along with the remaining marsala. Stir well. Quick dip each ladyfinger in the espresso mixture turning for a few secs until they are nicely soaked.
Line these in the bottom of a glass dish until you have used half of the biscuits. Spread over half of the cream. Cover with the remaining biscuits and spread over the remaining cream. Dust with the cocoa.
Chill in the fridge for 4-5 hours or better overnight.
Buon Appetito! Enjoy! And not only on the 21rst of March!