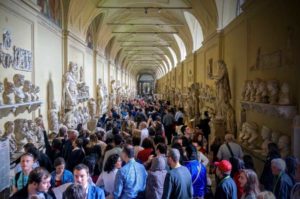 Last year some alarms went off in Italy: there were too many turists visiting the most famous sights, like Venice, Florence, Rome, the Cinque Terre, the Lombardy Lakes etc. The crowds were just becoming too large to be able for these cities and areas to cope. Venice was becoming uninhabitable and the original Venetians were fleeing the city. In a few decades the worlds most famous city would become a sort of Disneyland, overcrowded during the day, empty at night. A horror scenario. Some measures are now being taken to reduce the inflow and dampen the turist tsunami. On the small footpaths of the Cinque Terre now only a limited number of visitors is allowed during a day: you need a ticket to get in.
How to Avoid the Crowd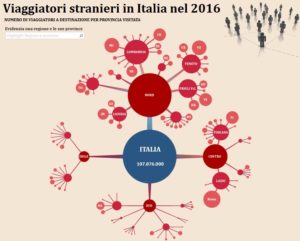 If you hate crowds you can still enjoy Italy if you look for the less well-known spots. Where they are you can find using the very nice interactive graph by Filippo Mastroianni on Tableau.com for Banca d'Italia. Have a look there to find the quiet provinces and rest assured: there is something beautiful and authentic to discover everywhere in Italy!
The same Banca d'Italia also provides a table with the number of foreign visitors by province (the smallest adminstrative division except for comune) which helps to get a more detailed insight. As you can see the top sights are the usual suspects: Rome, Milan, Florence, but also Como, Bolzano, Varese. The province we live in is one of the quietest (52nd of 128) and then the city of Pavia is likely to take in most of these, making our wine region in the south one of the less visited ones of Italy.
Come and relax in the beautiful and quiet Oltrepò Pavese!