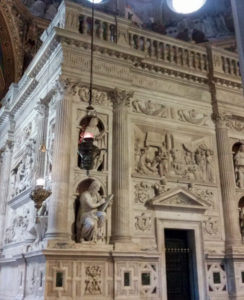 Safely hidden on top of a hill, behind the walls of the vescovo's (bishop's) palace in Lorete, Le Marche, within a magnificently decorated marble shrine, stands a little house.  As the legend tells us, Mary of Nazareth, wife of Joseph, was born, grew up, and was visited by the archangel announcing Jesus's birth in this very house. The house, which survived the centuries, was flown to this new location by a group of angels in the 1291, in order to save it from a raid of Palestine by muslim invaders.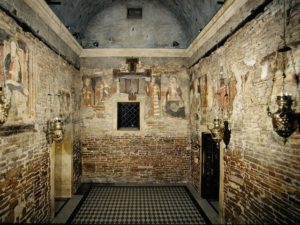 Now this is what the legend says and you may believe it or not, but historians have noted that the structure of the three walls (the current north wall is a later addition) as well as the material used are of the kind found in Palestine and are not found anywhere in Italy. Also, there are written records of a certain prince Angeli (which means 'angels' in Italian!) having ordered the house to be transported to Italy by boat in 1291. In any case, the early Renaissance clerical rulers of Loreto believed the house to be real and sacred and built a basilica around it, employing the likes of Bramante and other famous painters and architects.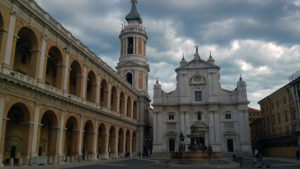 Inside the house the so-called "Black Madonna", a statue of Mary made of black ebony, is venerated. (The current one sadly is a 1921 replacement; the original has gone lost.) This Madonna is considered to be the patron of aviators, given the legendary flight of the house. Millions of believers visit the sanctuary each year and you may see them praying with their heads against the walls of Mary's little house.  If you do not come on pilgrimage the basilica is still worth a visit for its beautiful decorations and the panoramic setting in the hills of the mid-Italian Le Marche region.