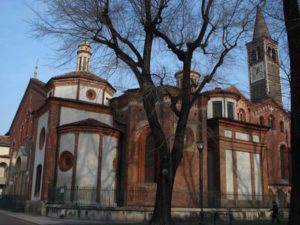 The Basilica of Sant'Eustorgio was for many years an important center for pilgrims on their journey to Rome or to the Holy Land, because it was the site of the tomb of the Three Magi. The tomb is currently housed in an urn located in the Chapel of the Kings. The bell tower even carries the star of Bethlehem instead of a cross!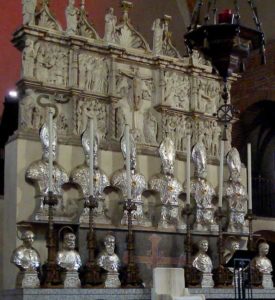 With its series beautifully decorated chapels (commissioned from the 14th century onwards by the main families of the city) and impressive sculptures it's a definite must see for visitors of Milan. The church is located at the end of the Corso di Porta Ticinese on the way to the Navigli district. The first chapel to the right has a Renaissance sepulcher and a triptych by Bergognone . The next three are more ancient, having frescoes of the Giotto school and tombs of members of the Visconti family. The high altar is an imposing marble polytich of the early 15th century. Also noteworthy are a Crucifixion on a table by a Venetian artist of the 13th century and St. Ambrose Defeating Arius by Figino of the late 16th century.
The procession of the three Magi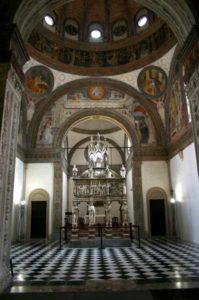 The 15th century Portinari Chapel is one of the most celebrated examples of Renaissance art in Lombardy. It has frescoes by Foppa and a marble ark of St. Peter , a work by Balduccio (1rst half 14th century) with the 8 figures of the "Virtues" set as caryatids to support the sarcophagus. Many pictures of the Cappella Portinari and of frescoes , paintings and sculptures can be seen on the official (Italian) website. Each year, at the feast of Epifania (January 6th) there is a procession of the Three Magi from Piazza Duomo to the Sant'Eustorgio .
Annex to the Basilica, at Piazza Sant'Eustorgio 3 , there is a museum with relics and liturgical artifacts.
Completely accessible to the disabled.