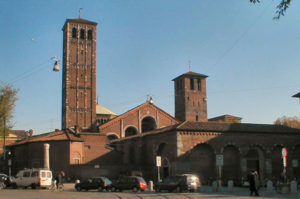 Though not explicitly mentioned as such by all travel guides, the Basilica of Saint Ambrose is about the most interesting one to visit in Milan. It is a medieval art treasury. The basilisk was originally consecrated by St Ambrose (387), but is for a large part a rebuild of the 11th century, though parts of the 4th century have remained. Saint Ambrose is the most important patron saint of Milan and each year on the 7th of December there is a large feast dedicated to him. He is one of the four church fathers or doctors and responsible for Saint Augustine converting to christianism. Ambrose also ordered the construction of some of the most important churches of Milan.
Highlights of the Saint Ambrose basilisk
Just a few of the highlights , making this a must see experience:
the Romanesque facade with the atrium decorated with 6th-century capitals
bell towers of the 9th and 12th century respectively
9th-century golden and silver altar by Volvinius , with a 10th-century tabernacle
carved wooden choir with polychrome carvings of scenes of St.Ambrose's life
the "Serpent Column" : a bronze serpent on a column, kept here since 1002
4th-century Sarcophagus of Stilichone with a marble pulpit
the Sacello di San Vittore , with mosaics of glittering gold from the 5th century, including a portrait of St. Ambrose
apse mosaic of Byzantine layout from the early 1200s
A peculiarity is the presence of the skeleton of St. Ambrose in the crypt, accompanied by the remains of St. Gervasius and St. Protasius that where rediscovered by Ambrose himself. Do not forget to visit the Tesoro (entrance in the Portico della Canonica left of the church), as it houses many treasures indeed. Next to the Basilica there is a museum with relics and artifacts of the history of the church (small fee). Also close to the basilica is the former cloister , designed by Bramante , now the Catholic University.