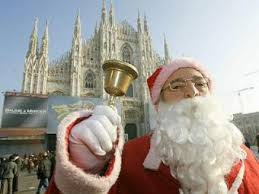 Italian christmas is more or less like the holy feast in other Christian countries. Entire families grab the opportunity, one of several during the year, to come together and enjoy a fantastic, slow, many course lunch, the pranzo di natale. But in the extreme North of Italy, Friuli, Alto Adige and the like, an another feast is celebrated, weeks before xmas.
The bishop from Bari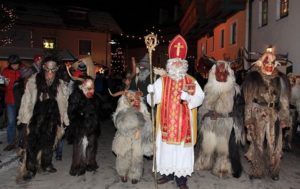 The festa di San Nicolò, as it is called, re-enacts the arrival of the bishop of Mira (Turkey) in Bari in … It is the celebration of the saint's miracle … During the feast the bishop chases away the evil spirits like the one called Krampus, a part human part goatlike monster. In addition San Nicolò checks which children have behaved the previous year and which haven't. The good ones receive sweets, caramelle; the bad ones pieces of coal, carbone. There is a clear relation with another, very Italian feast here, the arrival of the Befana witch early January. In the course of the ages traditions have interchanged and become entangled a little.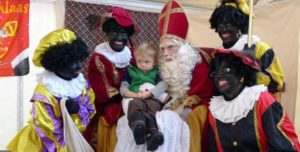 The origin of this early December tradition of San Nicolò lies in Germany. The feast is very traditional in The Netherlands, more so than the American Santa Claus who arrives at Christmas. In Holland the saint is not accompanied by a devil-like figure like the krampus but by dark-skinned servants, each of them called Black Pete. The servant's looks have changed over the years, at some point becoming some sort of black slave caricature, with earrings, curly hair and thick red lips. The arrival of black immigrants from former colonies like Surinam and the Antilles together with the recognition of the dark past has now led to a very 'lively' (and agressive) discussion.  Is a feast in which a black slave like figure plays a role still acceptible in modern times? An ever increasing minority thinks it is not. Time to import the German and North Italian Krampus?