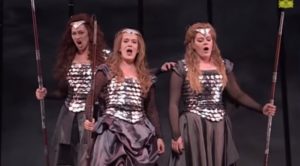 Triiiinnnng. The mobile phone right next to me went off. Oh no, I thought, Nico's mobile phone, right in the middle of the performance of Wagner's Die Walkure opera! And in one of the rare quiet moment of course and not during the Walkurenritt. Nico struggled to silence his phone with angry looking Milanese music lovers around him. And he never ever brings his phone (normally). Or if he does it is switched off, or has an empty battery. But now, of all occasions he has a functioning phone and someone tries to contact him. Which is a rare thing as well, as he never answers. At the beginning of each performance the public is asked politely to switch of their phones, but of course the ones that should don't listen… And we had two more evenings to go as we had booked the entire Ring cycle. Tickets which cost a fortune even with the 50% discount we were offered. Would they still allow us in tomorrow, after this humiliating incident?
The Scala in Milan: how to get a peek inside
The world famous opera house Teatro alla Scala in Milan lies at the piazza that carries its name. It is situated at the northern end of the Galleria Vittorio Emanuele II  shopping mall. The square offers a nice place to sit and watch the crowd, under the eye of Leonardo da Vinci 's statue. The facade of the Scala itself does not have much to offer, except during performance evenings when it is nicely illuminated. The interior is magnificent however, warm, cosy, intimate and beautifully decorated. All the independently lit boxes give it the impression of a little city. The Scala theater was completely renovated from 2002-2004. Seats now include monitors that present the opera libretti in English, Italian and the original language. La Scala's season traditionally opens on 7 December, Saint Ambrose's Day, the feast day of Milan's patron saint.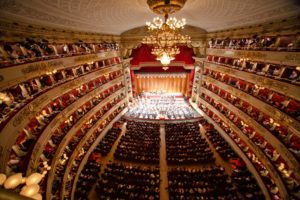 Tickets for opera performances are expensive and hard to lay hand on, although remaining tickets are sold on performance days. Show up at 13.00hr on the day of the performance and have your name put on a list, come back at 17:30. If they call your name you collect a number then wait till 18:30 to go in and buy your ticket. You may find it easier to get tickets for other performances than opera though. Have a look at the recitals or smaller scale concerts. Another option is to take a tour from the Museo Teatrale alla Scala and have a peek in the (empty) theater.
Information on seating availability and guidelines for purchasing subscriptions and tickets: tel +39 0272003744 every day from 9 -6. There is also a Central Box Office, in the Duomo Metro station. Open every day from 12-6. Completely accessible to the disabled (but no parking).
A bite of Italian: the name La Scala originates from the Veronese Della Scala family that founded a church, later demolished, on the location of the theater.
Address: Via Filodrammatici 2
Open: 2hrs before performances
Tel: 02 72003744
Website: www.teatroallascala.org