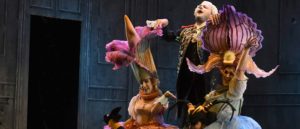 Yesterday we went to a performance of La Cenerentola in the Fraschini theater of Pavia. This Rossini opera (opera is called 'la lirica' in Italy, as opposed to 'la prosa', play) turned out to be a bit dull. The well-known fable did not offer much drama for the composer to attach his ever joyful arias to. But we enjoyed our evening nevertheless, as the singers were excellent and the theater itself is a feast for the eye.
La Scala in miniature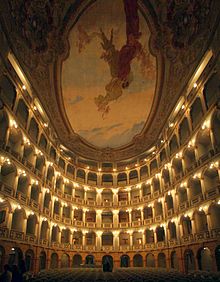 It seems that every, even the smallest town has its own Scala-type of theater. Pavia has the Fraschini, but the smaller village of Stradella has its Teatro Sociale which accommodates only a few hundred within its miniature Scala theater. Another theater of the same type we visited in the peasant town of Busseto where Verdi was born. Another Scala lookalike. One immediately feels at home in these cosy venues, the warm red velvet, the cream coloured balconies, the golden ornaments glittering in the dimmed honey-yellow light of the crystal chandeliers. When the central lights are spent, the boxes seem to be the loggias of apartments in palazzi that surround you. You feel you are in the square of a city on a summer evening. Italy! La dolce vita.
Of course one immediately thinks of the Scala in Milan as the archetypical Italian opera theater, but maybe this is wrong. Wouldn't the Fenice theater of Venice the real original model of all theaters, the Scala included? But even La Fenice wasn't the first of this box-type theater, the San Carlo in Naples being the oldest still existing one. The box-architecture has a long tradition and Italians kept building these long after other countries like France opted for a more open style. Fortunately, as now you can (and should) go and see the local theater in every town you visit. The smaller the town the better. Buy a ticket for a performance, anything, as these are normally cheap, just to get the inside. The theater seasons are a bit strange when compared to those of other countries as in Italy one starts with all the operas first, presenting all the plays afterwards, from February or so. No more opera after January! (major theaters like the Scala excluded).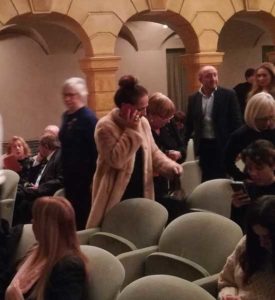 You should also visit a theater to watch the Italian public, how they behave and what they wear. La bella figura in ottima forma. A winter visit is special as in that season almost all Italian ladies wear fur, real fur, even inside the theater! Yesterday was the first cold day of the year and yes there they were! While we we dropped as much clothing as was still decent, temperature being somewhere near 23 degrees Celsius, the furs remained! Unbelievable. Italians and their health obsession.