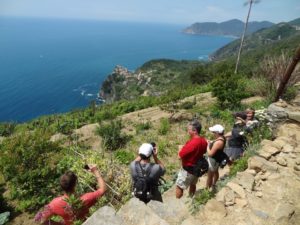 The now world famous tourist attraction Cinque Terre along the coast of Liguria is not far from our bed and breakfast. So we decided we should visit it, if only to be able to inform our future guests about the place. Or, better, places, as the Cinque Terre consists of five picturesque villages connected by a footpath along the sea. We decided to go in autumn, to avoid the masses of tourists that visit each year. A wise decision, as we discovered the footpath to be very narrow. Each time you met someone coming from the other direction you had to step aside and wait for him or her to pass. Think of this in summer when the paths are crowded! Very annoying. Luckily, now in October the number of people on the path was limited so we could enjoy the spectacular views without stress.
(Only a few weeks after our visit very heavy rainfall struck the area. The floods even destroyed part of the footpath!)
Avoid the crowd!
The five villages that make up the Cinque Terre are Monterosso al Mare, Vernazza, Corniglia, Manarola and Riomaggiore. Since 1996 the area is a UNESCO World Heritage site. Apart from the footpath there is also a railway that connects the villages, so you do not have to walk the entire stretch. And you can easily return to your departure point. Visiting the villages by car is almost impossible. We tried to visit the equally touristic village Portovenere that can be accessed by car … if you are lucky to find a parking space. Which we did not so we decided to go and visit the lesser known Le Grazie instead. This small village turned out to be a little gem and offered a quiet atmosphere (not) far from the madd(en)ing crowd!
Lesson: try and visit lesser known villages near the famous ones. Some are just as worthwhile and much less stress provoking.
The sixth village of the Cinque Terre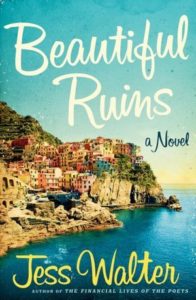 There is, however, a lesser known village that you cannot visit. It is ominously called Porto Vergogna (as this where the whores resided) and it is the sixth village of the Cinque Terre. The one that missed out on all the fame and glory, the ugly little sister. Jess Walter describes it with a lot of humor in his very enjoyable novel Beautiful Ruins. Of course, it does not exist in reality, only in the imagination of the author and the readers of the book. If you go and visit the Cinque Terre, please bring this book along, you are sure to like it.