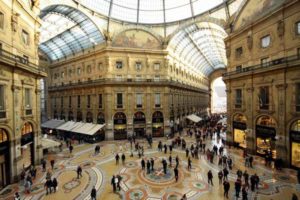 Connecting the square of the Duomo with Piazza della Scala , the Galleria Vittorio Emanuele II of Milan offers a wide range of luxury shops, bars and restaurants. Not the cheapest places, so you can spend a lot of money if you wish. At the Town House Galleria Hotel you can stay at a price of 900 up to 3000 euro a night. All shops, even McDonald's, are obliged to have their names written in gold on black on their windows to guarantee visual uniformity .
The Salon of Milan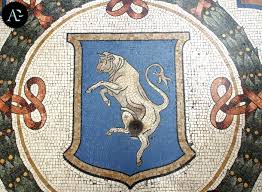 The glass and steel constructed roof and cupola date from the late 19th century and the mosaics in the floor represent the weapon of the House of Savoy, the different capitals of Italy (Milan, Turin, Florence and Rome) and allegories of the four continents. The statues in the gallery represent Leonardo da Vinci, Michelangelo, Galileo etc. Tradition has it that turning in circles with your heel on the vital parts of the bull in the center mosaics brings you fortune, though the precise details on how to do it differ (so if it doesn't work, it's your fault).
The Galleria is frequently called the salon of Milan as it is a favorite meeting place for the inhabitants.
A bite of Italian : the characters of the name of VERDI during the years of the struggle of independence of Italy (il Risorgimento ) stood for the first king of united Italy Vittorio Emanuele Re d'Italia.