About 50 km south of Milan the Oltrepò Pavese stretches out her vineyards, woods and meadows. A landscape reminiscent of Tuscany , with smooth hills, medieval castles, ancient villages and panoramic views. Though it is the largest wine producing region of Lombardy and one of the largest of Italy, the name Oltrepò Pavese hardly rings a bell. It is still undiscovered territory , tranquil and traditional, as if time has forgotten to touch this area. The Oltrepò Pavese may easily be visited on a daytrip from Milan. For example on a Sunday, when restaurants in the big city are closed. In the countryside the restaurants then serve the traditional Sunday lunch , il pranzo della domenica. An experience not to be missed! If you manage to find the place, the lunch at Azienda Agrituristica Bagarellum is the top of the bill.
What to visit in the Oltrepo Pavese?

The best way to discover the area at the foothills of the Apennines is to tour around and visit some of the sights, such as:
the monastery of San Alberto di Butrio
the medieval city of Varzi
Zavatarello and it's castle
the Penice pass
the botanical garden in the beautiful Romagnese area
the Monte Alpe nature reserve .
You' ll be surprised by how quiet it is and by the spectacular panoramic views along the way. Don't forget to visit a cantina to taste some of the wines that are typical of the region. Bonarda, Barbera, Buttafuoco, Sangue di Giuda, Pinot Nero, Riesling and the Spumante 's. Some of the possibilities (there are over 100 wine producers in the area) are: Travaglino and La Versa. Or on a small scale: San Michele ai Pianoni. You'll definitely want to come back another time and stay in this secret paradise. Have a look at our Bed & Breakfast Villa I Due Padroni .
How to reach the Milan wine region (50 km, 1 hr)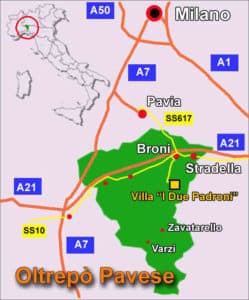 There are several ways to reach the region from Milan. The main access is by the state road no. 461 of the Penice Pass , winding up the valley from Voghera. The nearest motorway accesses are Casei Gerola (36 km away) or Casteggio (40 km away) on the A7 Milan-Genoa motorway and Voghera (32 km away) on the A21 Turin- Brescia motorway. You may also take the road to Pavia, and then the ring road ( Tangenziale ) east, direction Oltrepò, Stradella and Broni . In this case you will pass the 1 km century old Ponte della Becca at the confluence of the Po and the Ticino. Yet another way is to take the motorway to Piacenza and then the A21 direction Turin, to exit at Broni-Stradella .